Pop Culture Passover- 4/18/19
Published on
Feb 12, 2019
This is our first time doing a newsletter type something, so bear with us as we figure this out. And please send us your feedback so we can make it even better!
As you likely know, Passover is quickly approaching! So get those final crumbs of chametz (bread and whatnot) out of your house (or don't- celebrate Judaism in a way that's meaningful to you) and go buy a box of matzah that you'll eat from once and then remember how bad matzah is...or that you'll use exclusively for matzah brei.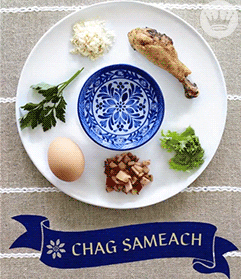 Let All Who are Hungry, Come and Eat!
Nobody should be alone for seder. If you're still looking for a place to spend the first or second night of Passover, check out our events page. Chabad Young Professionals has a first and second seder that you're invited to join. The first seder is with Chabad of Blue Ash and second night is at the home of Shmuly and Mushkie Posner. NextGen@Wise is hosting a second night seder downtown at Plum Street Temple, complete with an afikomen hunt IN. THE. SANCTUARY! If you are interested in attending either of these and are worried about not knowing anyone, please be in touch and I'll connect with a young adult in the community who is going.
Pop Culture Passover
Looking for something to keep you occupied during those long Passover nights, to distract you from thinking about pizza and bread and cake and cookies and sandwiches and...?
Here's where you can find your favorite Passover specials, movies, and episodes:
Rugrats Passover can be watched on Hulu! It's season 3, episode 23 (to save you the hassle of looking for it). If you don't have a subscription, you can get a free trial. OR you can pay $1.99 to watch it on Amazon Video.

The Prince of Egypt is also on Hulu, or available for a small price on youtube, amazon, etc.

For those looking for a real classic, Charlton Heston's "The Ten Commandments" is on Amazon Video, for $6.99.
AND the most mentioned episodes of popular tv shows from all of the lists:
Transparent, "Elizah" & "Exciting and New," season 3, episodes 1 & 10, respectively

Curb Your Enthusiasm, "The Seder," season 5, episode 7

The OC, "The Nana," season 1, episode 23

Gossip Girl, "Seder Anything," season 2, episode 21

Saturday Night Live, "Elijah the Prophet at a Seder"

Shalom Sesame (a Jewish version of Sesame Street) has some great Passover episodes, several with particular 80s/90s greatness!
Get Connected
Are you new to Cincinnati or looking to get more involved in the Cincinnati Jewish young professional community and not sure where to start? Let's grab coffee! Or let me connect you with one of our incredible ambassadors!
Have an idea for a way to get people together? Let's talk about you planning a meet up!
Want to attend a smaller gathering, like a Shabbat dinner? Check out OneTable for what open dinners are happening in our community. Want to host a Shabbat dinner? Amazing! Let's talk about that too!
Email me and we'll get started on all of this wonderful connecting. Missy Goldstein Gleisser, mgoldsteingleisser@jfedcin.org.
Wishing you a happy and meaningful Passover,
Missy, Jaynie, and the Cincinnati Vine team